Introduction
Sri Lanka has a huge southeastern nature preserve, comprising vast areas of wilderness and many individual national parks that together form a region known as Yala. Kumana National Park in the eastern portion of this protected area is as beautiful and diverse as its surrounding national parks. If you are looking for a safari experience that is not deterred by a heavy footfall of tourists and is equally as spectacular, Kumana is the best place to visit.
The only reason it tends to be quieter is that it is located along the east coast, which is far away from Colombo, and most visitors are short on time and want to travel less. Nevertheless, the park earns a healthy footfall from visitors across the world coming to observe the incredible avifauna and bird species. Elephants, jackals, wild boars, crocodile,s and peacocks are some of the common wildlife seen at Kumana National Park.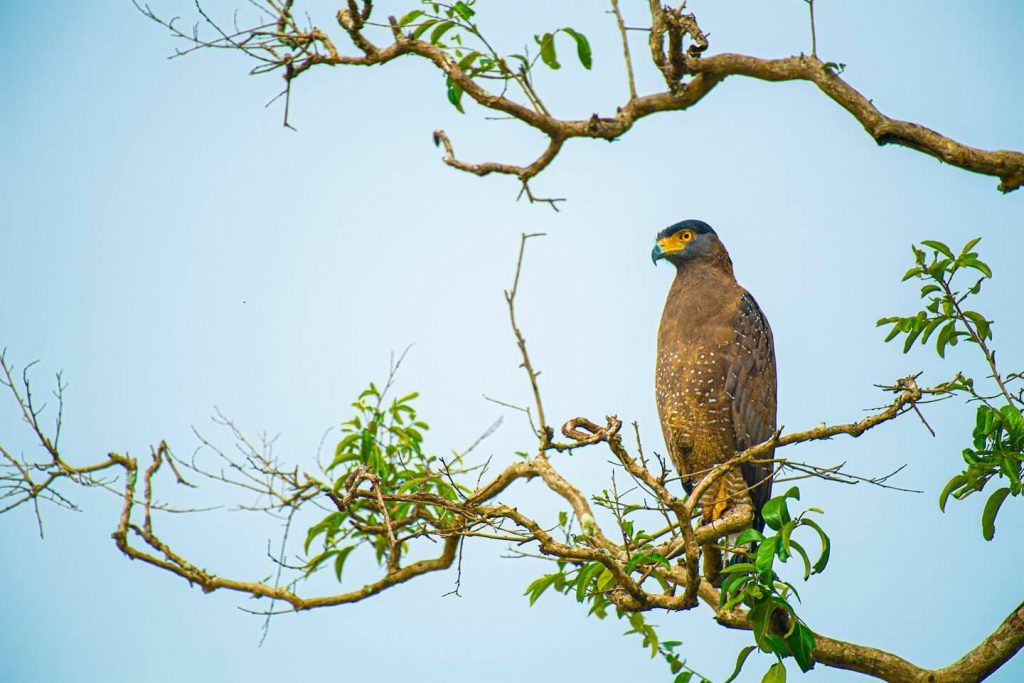 What kind of park is Kumana National Park?
Kumana National Park has the most popular bird sanctuary in Sri Lanka, making it the best place for bird watching. Some of the most stunning migratory birds such as waterfowl and wading birds from across the world are seen here. Out of the 430 bird species recorded in Sri Lanka, 255 species of birds are sighted at the Kumana bird sanctuary.
Where is the Kumana National Park?
Kumana National Park is also known as Yala East National Park and is located approximately 30kms south of Arugam Bay, in the Ampara district. From Colombo, getting to Kumana by road is about a 7 hours drive, and Google Maps can direct you there. There is also a bus from Colombo to Pottuvil (7 hours), after which you travel further south to Arugam Bay or Panama, both locations have entrances to Kumana. Train routes are available as well as an internal flight from Colombo to Hambantota, after which a taxi can take you to Kumana National Park.
When traveling from Colombo, Kumana National Park is en route to the Kataragama Pilgrimage site, so you can schedule a stop here on your way to Kataragama. The main entrance of Kumana is on the eastern side of the island and the closest town is Okanda – which is where the gate is located. There are also options from the northern borders that make good transport hubs to enter the park.
Climate and Weather at Kumana National Park
At Kumana National Park, the average temperatures are around 30 Degrees Celsius, and the dry season is from the months of February to July. Rainfall is expected throughout the other months but it can be easy to find dry days that are suitable for a safari at Kumana. However, if it has been raining continuously for a few days, pathways can become waterlogged, especially because the environment is already swampy at the park.
The experience at Kumana National Park
Fauna
As one of the most popular breeding and nesting grounds for birds in Sri Lanka, Kumana National Park boasts a wide variety of bird species during the peak season. Thousands of migratory birds join the endemic ones in the Kumana swamp area.
Regular sightings:
Pelicans
Painted Storks
Spoonbills
White Ibis
Herons
Egrets
Cormorants
Endemic inhabitants:
Eurasian Spoonbill
Black-necked Stork
Great Thick-knee
Migratory inhabitants:
Pintail Snipes
Glossy Ibis
Purple Heron
Water Cock
Yellow-footed Green Pigeon
Greater Racket-tailed Drongo
Malabar Trogon
Red-faced Malkoha
Sirkeer Malkoha
Wading Birds:
Pacific Golden Plover
Greater Sand Plover
Lesser Sand Plover
Grey Plover
Ruddy Turnstone
Little Ringed Plover
Wood Sandpiper
Marsh Sandpiper
Common Redshank
Common Sandpiper
Curlew Sandpiper
Little Stint
Common Snipe
Pintail Snipe
In addition to the bird varieties, Kumana swamps are home to some of the rarest amphibians, aquatic, and land animals. Spotting a herd of Sri Lankan elephants is a highlight at the park. Some of the other land animals seen are the threatened wetland species such as the Green Turtle, Loggerhead Turtle, Olive Riddle Turtle, Indian Flap-Shelled Turtle, European Otter, and the Mugger Crocodile. In addition to these, the water buffalo, water monitor, lizards, sambar deer, monkeys, and the leopard can also be seen if you are lucky.
Flora
In terms of flora, the national park comprises a large number of shallow lagoons and tanks that are often filled up with seawater. Rare land and aquatic species of tropical thorn forests such as the arjuna, lotus, water lily, cassia fistula, and more are part of the Kumana National Park.
In beautifying the safari scenario further for visitors, there are also many medicinal plants, some of which are very ancient, as well as beautiful flowering plants that are well conserved and protected like the animals. There are also many trees and shrubs that have not been discovered yet but stand tall in their place providing shelter to the animals.
Safaris
Safaris at Kumana National Park can be done in the mornings at 6.00a.m, afternoons at 3.00p.m, or an all-day safari option is also available where you take your meals along and pick a spot in the park to enjoy your meals. Different species can be seen at different times so you may want to do a couple of safaris if you really wish to see all the animals of the wild. You can book a safari in advance by looking for a company online, our tours can be easily arranged from Arugam Bay, Panama, or Pottuvil.
When should you visit the Kumana National Park?
Kumana National Park is open to visitors all year round, but it is not advisable to travel during the monsoon months. The swamps get muddy and the sightings of birds and animals are very less.
From February to July is the dry season at Kumana, which is the best time to visit the National Park. You can get a better understanding of birds, animals, and vegetation if you visit during this period as sightings are more when animals come out to drink water from the lakes, and the views are also good on clear days.
Tips and advice
Be quiet during the safari – animals will run away if they hear a truck full of loud humans. If they don't feel threatened, they won't have any reason to leave.
Be patient, especially if you want to capture some good shots. Bring a monopod to stabilize your camera.
Don't zone out; the guide has only one set of eyes. Put yours together and you'll be able to see so much more.
Dress appropriately – warm clothing is best. Sunglasses, sunscreen, insect repellent, water, and snacks are a few things you must carry along with you.
Accommodation
The park can be reached from the Westside if you base yourself in Hambantota, but most people prefer to base on the east coast – Arugam Bay, which is very close to the park entrance. A few camping and glamping options are also available within the park. These sites have been set up close to the bird sanctuary, and are especially popular amongst the bird watchers who want to be immersed in nature and spot wildlife at leisure.
The post-Kumana National Park appeared first in Blue Lanka.