Why is Sri Lanka referred to as the Bird Watchers' Paradise?
The beautiful teardrop-shaped island of Sri Lanka has rich bird fauna, which is why bird lovers usually rank Sri Lanka as one of their favorite destinations for bird watching. There have been a whopping 426 bird species identified here, 33 of which are endemic – which means they are found only in Sri Lanka. During the months of October to April, several migrant birds visit the island, traveling from as far as Siberia. Another interesting highlight of avifauna in Sri Lanka in the presence of mixed-species flocks – which means that one can carefully observe the interactions amongst different bird species, thereby making bird watching in Sri Lanka both easy and interesting!
The tropical weather and favorable natural habitats make Sri Lanka an ideal breeding ground for birds. In each climatic zone, there are specific habitat types that determine the existence of certain bird species. For example, in the dry zone, we find forests, marshes, grassland, man-made lakes, coastal mudflats, and so on. While some species such as the Junglefowl are seen in both zones at all elevations, the distribution of others is limited. Many of the endemic bird species and subspecies are restricted to the characteristics of rainforests and wet zones; while some of the wet zone endemics are further restricted only to the higher hills.
What can you experience on a birdwatching tour in Sri Lanka?
Sri Lanka has a whole lot more to offer for those interested in Asian birds:
A large number of endemic species
A comparatively rich resident avifauna – including restricted-range species shared only with southern India
An exciting selection of migrant birds from Northern Asia and parts of India
Tame and approachable birds as a result of great regard for wildlife in the country
So, combine the island's amazing birding environment along with other panoramic views, ancient culture, and rich wildlife – you have a great combination for a memorable holiday destination.
Avifauna of Sri Lanka
Out of the 400 odd species of birds identified in the country, a little over 200 species are resident birds, which include the endemic species. The other resident species are shared with other Asian countries. The remaining 200 species are recorded as migrants to Sri Lanka. When the northern winters get extreme around the months of September to May, these birds migrate to a warmer destinations such as Sri Lanka. There is also a range of pelagic pieces of seabirds that migrate to Sri Lanka during the winters of oceanic islands of the southern hemisphere. From the range of migrant birds, about 100 species are regular visitors while the others are seen occasionally.
What is the best time for bird watching in Sri Lanka?
Anytime between October to early May would be ideal for bird lovers to make the most of bird watching in Sri Lanka because this is when you will get to see the endemics as well as some spectacular migrants such as the Pied Thrush, Kashmir Flycatcher, Indian Pitta, and so on. If you are looking only to focus on the endemic bird species of Sri Lanka, May-September is a good time to visit.
What are the best places to visit for bird watching in Sri Lanka?
There are many good birding sites in Sri Lanka, but if your time is limited, the must-visit places are the Sinharaja Rainforest Reserve, Bundala National Park, Yala National Park, Udawalawe National Park, and Horton Plains National Park. These are sufficient to show you all the endemics as well as a few other spectacular migrating birds.
Anawilundawa Wetland Sanctuary
Probably very unheard of, this destination is along the western coast of Sri Lanka, between Negombo and Puttalam. Anawilundawa Wetland Sanctuary is internationally recognized for bird watching because it is where three special eco-systems meet, and it boasts a variety of about 150 bird species. The freshwater lakes and mangroves attract a range of migratory and endemic species.
Egret
Ibis
Pheasant Tailed-Jacana
Stalk
Purple Swamphen
Cormorant
Also, there are 6 man-made tanks and 3 peripheral tanks which create an interesting integrated irrigation system here. A beautiful range of butterfly species can also be seen at the Anawilundawa wetland sanctuary.
Bundala National Park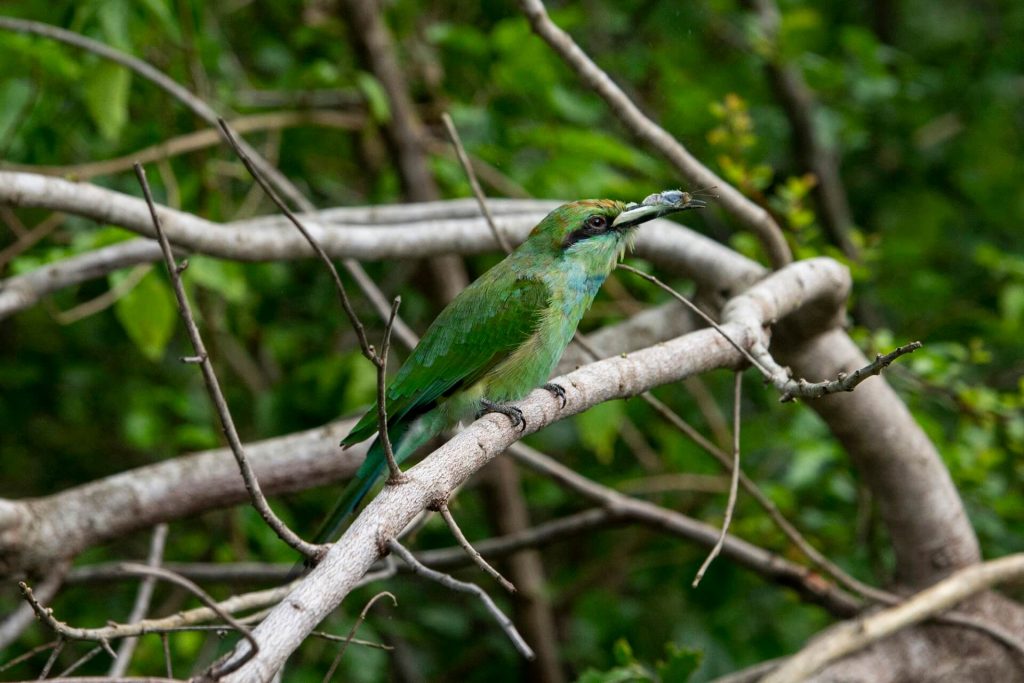 Also known as the birder's paradise, the Bundala National Park is another internationally recognized RAMSAR site in Sri Lanka. Located in the southern province, in close proximity to Yala National Park, Bundala boasts a wealth of brackish water lagoons that attract migratory birds from across the ocean. Approximately 197 bird species are recorded here, and it is said that Bundala National Park exhibits close to 1000 birds at a given time.
Greater Flamingos
Cormorants
Grey Herons
Water Fowls
Painted Storks
Eurasian Spoonbills
Black-necked Storks
Kalametiya Bird Sanctuary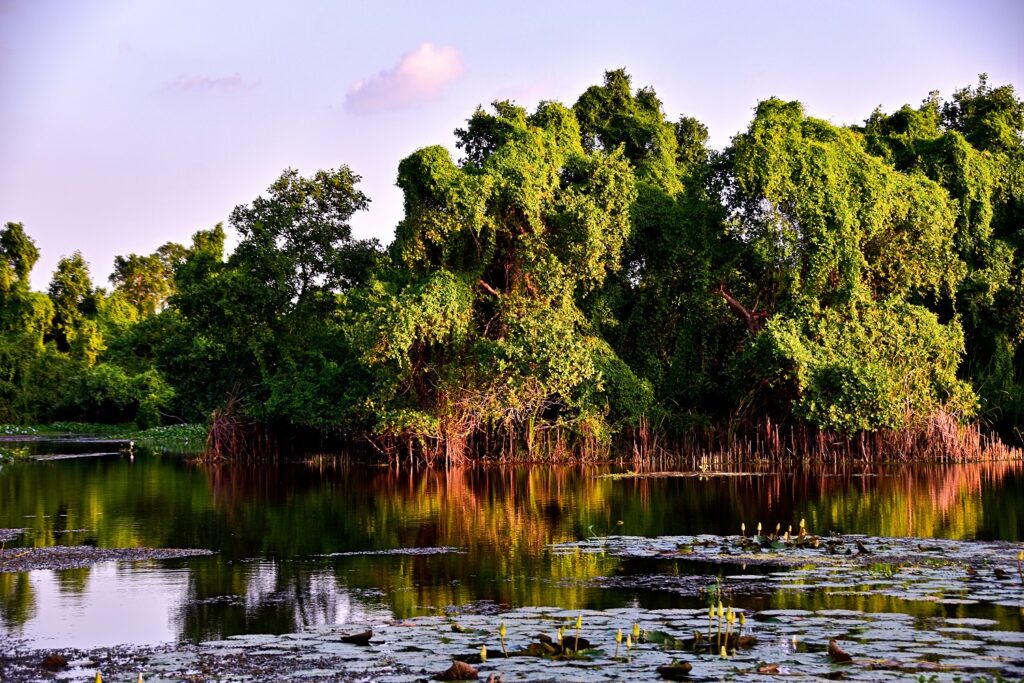 If you are looking to steer away from crowds and enjoy a peaceful bird-watching experience, Kalametiya Bird Sanctuary is an ideal venue. Also located along the southern coast, between the towns of Tangalle and Hambantota, this reserve has a similar blend of aquatic and bird life residing on the banks of lagoons, scrub jungles, mangroves, swamps, and open grassy areas. Known to be a haven for weaver birds, there are also about 20 mammal species, 40 bird species, and 38 reptile species seen here.
Sinharaja Forest Reserve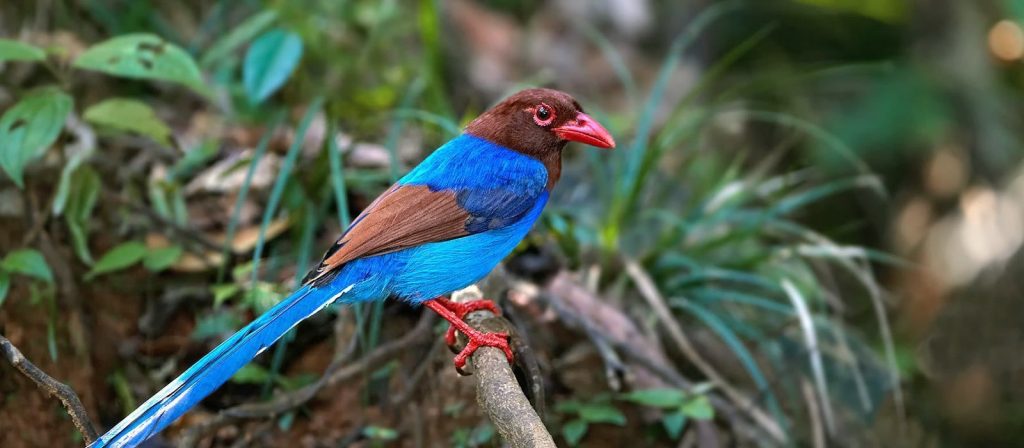 Recognized as a UNESCO World Heritage Site, Sinharaja is also a biodiversity hotspot known for its rich flora and fauna. About a three-hour drive from Colombo, you will see about 20 endemic bird species here in addition to other migratory varieties.
Sri Lankan Green Pigeon
Green-billed Coucal
Sri Lankan Wood Pigeon
Sri Lankan White-headed Starling
Ashy-headed Babbler
Sri Lankan Blue Magpie
Sri Lankan Broad-billed Roller
Red-faced Malkoha
Jungle Fowl
Sri Lankan Hanging Parrot
Crimson-fronted barbet
Kumana Bird Sanctuary
Located on the South-Eastern coast of Sri Lanka, Kumana National Park is renowned for being home to large flocks of birds. As a prominent bird breeding and nesting ground, there are approximately 255 species of birds spotted at Kumana. Kumana is also called Yala-East as it is located on the eastern corner of the Yala National Park and happens to be just a short drive from Arugam Bay. April to July is a good time to visit as thousands of birds migrate and take over the swamps in the Kumana sanctuary. Some of these birds are rare, hence making a visit to Kumana is a must.
Eurasian Spoonbills
Black-necked Storks
Waterfowls
Pintail Snipes
Purple Swamphen
Little Egret
Black-crowned Night Heron
Wood Sandpiper
Yellow-footed Green Pigeon
In addition to these popular locations, there are also bird-watching experiences in Kitulgala Rainforest Reserve, Sigiriya sanctuary, Victoria Park in Nuwara Eliya, and Udawatte Kele Forest Reserve.
What are the migration routes of Birds to and from Sri Lanka?
When you look at the world map and the geographical location of India and Sri Lanka, the latter is situated at the extreme south of India. If you notice all the way downwards from here to the southern pole, there is no other land – it is only the ocean. Therefore, for migrant birds traveling south from India, Sri Lanka is the only land they can shift base to.
The Western Route
Birds from Europe, West Asia, Western Siberia, and Western parts of the Himalayas fly along the west coast of India and then southwards into Sri Lanka, crossing the coast between Mannar and Kalutara.
The Eastern Route
Birds from East Asia, including Eastern Siberia, Mongolia, East Himalayas, and Tibet fly along the Eastern coast of India towards the south and enter Sri Lankan territory.
Andaman Islands Route
It is believed that migratory birds from South East Asia arrive on Sri Lanka's northeast coast from the Andaman Islands flying route.
September to April is the migratory season for birds in Sri Lanka and most often, birds return along the same route as arrival, but sometimes a different route is used. It is indeed a fascinating sight to see how large flocks of birds depart from Kalpitiya and Jaffna – a sight that remains etched in the memory of those who captured it!
What are the things you would need for a birdwatching tour in Sri Lanka?
Sunscreen is a must to avoid harsh sun rays when on your wildlife safari and nature trails.
Mosquito/insect repellent is also advisable to keep yourself away from mosquito bites.
What are the best practices to follow when bird watching?
Cool and comfortable clothing is advisable as Sri Lanka is rather hot and humid on most days of the year.
Wear colors that will camouflage yourself with the environment rather than those that are eye-catching and will scare birds away.
Don't make loud noises during your safari and put your mobile phones on silent.
Be patient in order to spot birds, and do not chase birds away as many bird species are not used to seeing humans around.
Do not get too close to the nests or sit near them as this will result in the birds flying away to another breeding spot.
Birdwatching Tours Sri Lanka
Blue Lanka Tours offers exclusive bird watching tours that concentrate on spotting the endemics of Sri Lanka's birds as well as a large number of more widespread bird and wildlife species, exclusive archeological sites, and breath-taking landscapes. Our tours include experienced local guides who specialize in bird watching as we focus on supporting local communities as much as possible. These guides are easily able to spot and identify bird species. Some of the bird species that our tours concentrate on are the secretive Sri Lanka Spurfowl, the gorgeous Sri Lanka Blue Magpie, the tiny Legge's Flowerpecker, and the recently discovered Serendib Scops Owl. In terms of habitats, we cover the lowlands, highlands, wet zone rainforests, dry zone jungles, and grasslands.
Here is a destination list of the exclusive bird watching tour itinerary designed by Blue Lanka Tours:
Colombo
Sinharaja Rainforest Reserve
Yala National Park
Horton Plains National Park
Kitulgala Rainforest
Negombo
In addition to the wildlife-related attractions, this tour will also cover other popular tourist destinations along the route to give you the best experiences during your Sri Lanka holiday. Visit our website for more details on this birding tour itinerary. Please feel free to contact our friendly team of travel consultants for more information. If you wish to customize your itinerary as per your preferred destinations, we will be more than happy to curate it for you.
The post Bird Watching in Sri Lanka appeared first on Blue Lanka.